Below are past contests that have since ended. Feel free to take a look at the previous submissions and votes. Please note that past polls cannot be closed, and voting on the previously used polls will not change the previously announced winners.
PRINCESS DAISY MII CONTEST
You've seen them everywhere. Many people have created what they think is to be the most accurate representation of a Princess Daisy Mii. But for the first time in We Are Daisy history, we will be holding an opportunity for users worldwide to submit their Princess Daisy Mii and deem which Mii closest resembles Princess Daisy. Criteria should be based on accuracy.
Submissions will be accepted from February 1st - February 26th at approximately 12:00AM PST. All users are limited to 2 Miis per entry. Submissions must include an in-game official image of your Mii (i.e. no drawn fanart will be accepted), preferably unobscured (outfits are allowed, although you should be focusing on the Mii's facial features to perfectly replicate Daisy's). Submissions can be posted on tumblr, Miiverse, YouTube, or any other website with a shareable URL. PLEASE POST A LINK OF YOUR submission(s) in THE COMMENT SECTION BELOW.
Note: You do not have to create an account on the We Are Daisy wikia to post a comment - you may post anonymously, but feel free to include your name as well.
Voting took place between February 26th - February 29th, and you will be notified how to vote (via contact through the comment system of this wikia [please leave your e-mail notifications on to prevent missing out on the notification]) once all submissions have been posted
Entries | Voting
And time is up! Thank you to everyone for your lovely submissions! It is now time to vote for which Daisy Mii looks closest to Daisy in reality, or whatever one you like best! Be sure to share with friends to gain support in voting! Please look at the picture gallery above to see what the corresponding poll options relate to!
WINNER (Princess Daisy Mii Contest)
Congratulations, Nelson! Nelson has won the OFFICIAL PRINCESS DAISY MII CONTEST with his submission! Thank you to everyone who submitted their own unique creation. Special shout out to folks who took part in voting as well, and for being respectful of each other! While this will now be recognized as the OFFICIAL PRINCESS DAISY MII, do not feel discouraged that yours is "unofficial". This is simply the Mii that will be utilized as frequently as possible for We Are Daisy. You are entitled to your own opinion and your own creation. :)
MARIO PARTY 10 PHOTOSTUDIO CONTEST (CANCELLED)
Note: This contest has been canceled as its creator wasn't able to end it.
Mario Party 10, released on the Wii U, featured a unique option for users to integrate their pictures on Miiverse. The Photo Studio can be accessed by clicking on Toad's Room at the beginning of the game. Players must 'unlock' characters to use in Photo Studio with Party Points. It is with warm welcome that We Are Daisy will be holding its second contest, where users worldwide can submit their Princess Daisy photo and caption to win points. The person with the highest total combined points will win a prize! Criteria should be based on the following:
Part 1 - Has Ended! Voting for Part 1 has started! Ends April 17th!
Submissions for Part 1 of this contest will be accepted from April 2nd - April 16th at approximately 12:00AM PST. All users are limited to a maximum of 1 photo to enter. Submissions must be a picture from Mario Party 10's Photo Studio mode, OR the Flash Forward minigame that takes pictures of players on the podium. Any characters may be included in the picture, however, Daisy must be in the picture somewhere, even if it is just her legs or crown appearing on the side of the photo.
Examples of acceptable submissions:
From April 16th - April 17th, voting will take place on all entries. Please vote for your favourite submission on the poll at the bottom. The Top 3 pictures that are most voted for, will receive points in the following manner:
1st Most Voted picture - 5 points
2nd Most Voted picture - 3 points
3rd Most Voted picture - 1 point
Submissions can be posted on tumblr, Miiverse, YouTube, or any other website with a shareable URL. Please contact the respective We Are Daisy admin based on your place of submission so an admin can add your picture to our entries. PLEASE POST A LINK OF YOUR submission(s) in THE COMMENT SECTION BELOW, or on Twitter @WeAreAllDaisy
Part 2 - Starts Later.. (Will begin AFTER voting on Part 1 has ended!)
*IMPORTANT* You can STILL win this contest even if you do not own Mario Party 10 / even if you do not participate in Part 1! The winner is chosen by total combined points of Part 1 and Part 2. Part 2 will not require use of Mario Party 10, and will only ask for people to submit a few sentences of words.
What is the Prize?
???
Entries
Voting
VOTING HAS BEGUN!
Feel free to advertise/share YOUR photo and get other people to vote for yours!*

From April 16th - April 17th, voting will take place on all entries. Please vote for your favourite submission on the poll at the bottom. The Top 3 pictures that are most voted for, will receive points in the following manner:
1st Most Voted picture - 5 points
2nd Most Voted picture - 3 points
3rd Most Voted picture - 1 point
DAISY AMIIBO DRAWING CONTEST!!
Hi everybody! Our third contest takes place here. The rule is simple: draw the best Daisy amiibo you can! Not obliged to have the same pose and the same design as the true one! Good luck!
Dates
Entries will be accepted until Sunday, 10th of July 2016.
Entries
Prize
Jourdon will create the structure of your choice in Daisyville and your art will be featured on a main place on the wikia!
Votes
Votes will be closed tomorrow at 7:00 pm (French time)
Winner
As there was a tie in the poll, even after extended voting time, there are two winners of this contest. Congratulations, Princeofouranhostclub and Lou. You two made the best fan-made Daisy amiibo!
OCTOBER MAGAZINE COVER
Hello dear Daisy fans! We need a striking cover for our October magazine and that's why we ask all of you if you want to participate to our new contest: draw the main art of the October magazine of Sarasaland Gossip! The winner will see his/ her cover published! The rules are simple: draw Daisy, or Daisy and Peach, or Daisy, Peach and Rosalina in an "Halloween outfit and/ or atmosphere".
Entries
We'll accept entries until October, 14th. Thank you so much, be numerous! You can post your entry in the comments or tell us where to find it!
Votes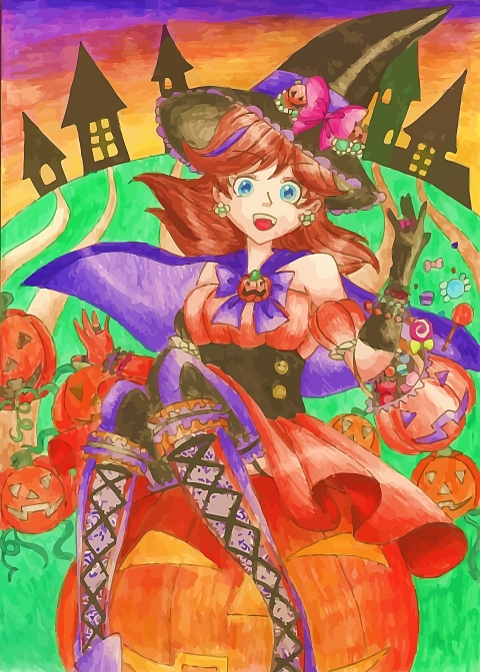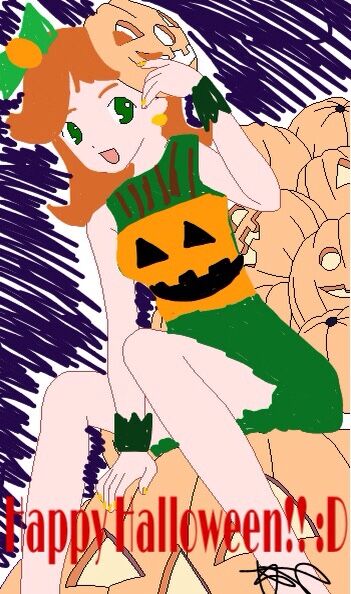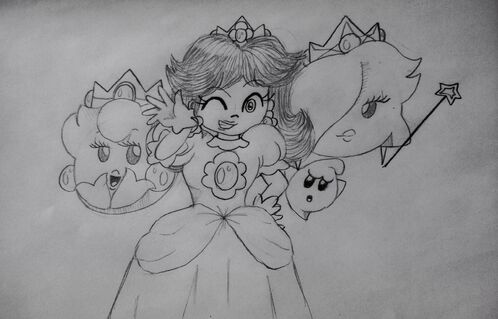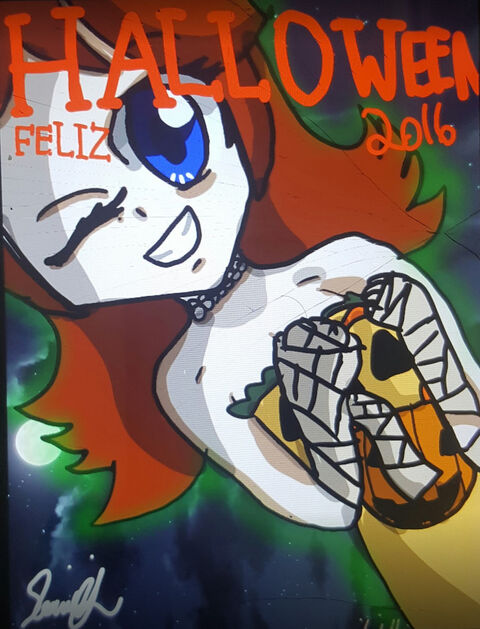 Prize
The chosen drawing will be featured on the October magazine cover.
Winner
Cold Dragon won the contest, congratulations!
FALL CONTEST
It's fall, a magnificient tempered season with plenty of yellow-orange colors. Yellow and orange, two colors which exactly correspond to Daisy, don't you think?
This is the purpose of our fifth contest: draw or create an image in any other way with Daisy in a fall landscape and/or clothes! Also remember that a great event happens in November: Daisy's amiibo! So it would be even better if you could add, in one way or another, Daisy's amiibo. Good luck!
Entries
Entries will be accepted until the 8th of November. After that a week of voting will take place.
Prize
Your art will be featured in the November magazine.
Votes
The votes take place during six days so until the 15th of November:
Winner
Tiffany Mc Goldrick won! Congratulations!
Amiibo Winter-Christmas Contest
What a great season that is winter, christmas, snow, joy, gifts... But do you know what is better than a simple winter? A winter with a Daisy amiibo!! That's why we launch our fifth contest: take an original picture of your Daisy amiibo(s) in a winter and/ or Christmas landscape! It can be with other amiibo if you wish ;)
Entries
Entries will be accepted until the 15th of December. You can post your entry in the comment section of this page or on one of our affiliates while telling that it is for the contest.
Votes
Votes will take place here from the 15th of December to the 20th of December.
Prize
Your picture will be featured in the January 2017 magazine.
Winner
Daisy9 Forever won, congratulations!
Merchandise Contest
How to enter
Take a screenshot of your Daisy collection and post it in the comments. Entries will be exepted anywhere between March 20th and April 20th.
Rules
The photo must be 100% yours. Any images that have been stolen will be disqualified.
The prize
You will get your very own page in the next issue of Sarasaland Gossip, which will credit you and show off your collection!
Good Luck!!!
Entries
Voting Has Started
Winner: Philip Vaca, congratulations!
Fanfiction Contest
Rules
Entries will be accepted anywhere between May. 9th and June 5th.
All participants are encouraged to include other Mario characters in their story, however it is asked that Daisy is one of if not the main character.
Any entries deemed unsuitable will be disqualified.
How To Enter
Either type your story on the Wikia or send write it somewhere else online and send us a link to it.
The Prize
Your fanfiction will be in the next issue of Sarasaland Gossip! You will also be credited for your work!
Entries
By Prιиcєss Dαιsy Sαrαsα (ɋυєєи σƒ sριи-σƒƒs): Cold Cold. That's one thing the orange haired girl hated during winter. The...
By Chris Corman (YoungLink5): (Just a quick Author's note here. This story does support LuigiXDaisy but the...
By Prιncess Dαιsy ~ Rσyαℓ Deījι Hιme χ: //The ending is weird and rushed, I'm sorry- [
By LuigiFanGirlGamer: User blog:LuigiFanGirlGamer/My story for the FanFiction Contest | We Are Daisy Wikia | Fandom powered by Wikia
By Lucie: (Sorry, the ending was kinda rushed.) #DaisyFanFicContest "YAWWWNNNNN" Daisy...'
Voting Is Now Closed
Winner: Prιncess Dαιsy ~ Rσyαℓ Deījι Hιme χ, congratulations!
Super Smash Bros. Moveset Contest
Do you have a creative moveset for Daisy if she were to become a playable character in a Super Smash Bros. game? If so, now's your chance to show it off!
Rules
Entries will be excepted anywhere between June 20th and July 20th, 2017.
When writing your moveset, please specify which outfit you picture Daisy wearing. For example, her dress, sports outfit, biker suit, etc.
How To Enter
Wither post your entry on We Are Daisy Wikia or post it in the Rosalina, Peach and Daisy fanclub on Google + with the hashtag #DaisySmashEntry
The Prizes
1st Place Winner: A Shoutout in Winning Results Video, Shoutout on the We Are Daisy Social Medias, And here! EARLY ACCESS to The August Edition of the We Are Daisy Sarasaland Gossip Magazine and the winner will be featured on the cover! 2nd Place: Honorable Mention in Winning Results Video, mention in Results Article for Sarasaland Gossip Magazine 3rd Place: Honorable Mention in Winning Results Video, mention in Results Article for Sarasaland Gossip Magazine
Entries
By Cool dunin97
-Standard A:Smack,Smack,Punch
-Right/Left Tilt: A Twirl Kick, she spins kicking anyone who is near by.
-Down Tilt: A low kick which launches opponents in the air
-Up Tilt: Daisy Takes her crown off hitting anyone above her
Specials!
-Neutral B: Daisy Cycles through different sport objects (Similar to Pac-Man's Neutral B) Such as Baseball Bat , SoccerBall,HockeyStick ,Tennis Racket
-Side B: Daisy Throws a fit and starts raging toward the player at full speed knocking anyone in her way off the stage, there will be a meter above her head showing 1 2 3 4 5 6 to determine how full her power is.
-Down B: Daisy Throws 4-5 seeds on the ground which sprouts Daisys on the stage slowing the other players down and sometimes making the player sleep or become dizzy.
-Up B: Daisy pulls out the Flower Glider from Mario Kart 8 And can fly in the air for 5 sec. After that the flower petals fall off and she returns back on stage.
-Final Smash: Daisy Changes to her sports attire (Tank Top, Shorts) and Runs forward until she is by someone (if she doesn't reach anyone she falls on her butt and says "Aww Man") then she performs several combos with punches and kicks and at the end she takes a Tennis racket and launches you.
By Dunce03
Daisy: standard A: Punch, kick, punch,
side tilt: large kick
down tilt: sweep kick
up tilt: crystal head butt
standard special: superball shot
side special: Floral glide sideways
up special: uses sky pop to go upwards
Down special: ground pound
FINAL SMASH: flowers made of crystals appear and grab opponents and the flowers do 60% with a grab and smash attack.
By Joanna Balderas
Final Smash-She jumps in the air surrounded by flowers. Then she summons big blue spike like in Mario Strikers. She can control where the go to hit enemies.
Attacks Side attack- She kicks horizontally Up attack- She punches up(if charged up it can KO at low percents. Down Attack-She punches twice then kicks vertically. (Great for combos)
Special Attacks Side special- she can summon flower seeds that explode when the hit a target. Up special- She summons a bunch of little flowers that hit opponents above her.(Works great for a upwards shield. Down Special- She summons a flower making her jump in the air,hits opponents below her,great for recovery.
Taunts Side taunt-Turns to the screen and waves while saying "Hi I'm Daisy! Up taunt- Spins around gracefully while holding a daisy.
By Prιиcєss Dαιsy Sαrαsα (ɋυєєи σƒ sριи-σƒƒs)
Entrance: Daisy hops off the Sky Pop, saying "Hi, I'm Daisy!"
Appearance Change
Daisy's appearance is slightly tweaked to match Super Smash Bros.'s more realistic art style. She is taller, and has freckles on her cheeks. Her dress is more detailed, adding small daisies in between her dress's lines and its puffs. (Look at the picture below)
Idle animations
1.) Daisy impatiently hops twice, in similar fashion to her Mario Power Tennis taunt.
2.) Daisy puts her left hand on her hip, staring at her oponent.
3.) Stretches her fingers, resembling the pose of her Mario Party 8 artwork.
~Attacks
Jab
Punch --> Mini uppercut combo (7% damage)
Tilts
Side: Daisy hits her opponent with her ankle (5%)
Up: Daisy kicks a football upwards with her knee (knee: 3% ball: 5%) ORIGIN: Super Mario Strikers
Down: Daisy performs a slide tackle (6%) ORIGIN: Super Mario Strikers
Aerials
Neutral: Daisy spins around, making flowers appear around her (Daisy: 5%, flower(×1): 0.5%)
Front: Daisy hits her opponents with her baseball bat. It can meteor smash (7%) ORIGIN: Mario Superstar Baseball (duh)
Back: Daisy performs a 360 degree kick, which can meteor smash (6%) ORIGIN: Super Mario Strikers
Up: Daisy puts on her cheerleader pom poms and performs three quick slaps (slap(×1): 2.5) ORIGIN: Mario Sports Mix
Down: Daisy ground pounds (8%) ORIGIN: Super Mario series
Dash attack
Daisy performs a shove (7%) ORIGIN: Mario Party series
Smashes
Side: Daisy hops and slaps her opponents and launches them upwards (20% uncharged, 30% full charge) ORIGIN: Mario Party 3
Up: Daisy throws a nut upwards, which explodes. Its seeds will hit players too (full charge: nut: 9%, explosion: 10%, seed(×1): 2%. uncharged: nut: 5%, explosion: 7%, seed(×1):0.5)
Down: Daisy punches the ground, making crystals grow around her (full charge: punch: 12%, crystal: 17%, uncharged: punch: 5%, crystal 6%) ORIGIN: Mario Strikers Charged
Grab-Pummel-Throw
Grab range: short
Pummel: Weak punch (1.5%)
Throws:
Front: Daisy kicks her opponent with her knee (5%)
Back: As Daisy throws her opponent backwards, crystals grow behind her, hitting the opponent (8%)
Up: Same as her up aerial (1.5%/punch)
Down: Gently places her opponent on the ground, and hits them with her golf club (12%) ORIGIN: Mario Golf Series
Specials
Neutral: Superball (5.5%) Daisy throws a Superball, which is basically a more bouncy version of Fireball ORIGIN: Super Mario Land
Side: Flowerbed Return (Daisy: 5%, flowers: 0.5%, raquet: 8%) A chargable attack. Charging it won't increase the damage, but the flowers, and how far Daisy moves. If the button is held down longer, Daisy will laid an attack with her raquet ORIGIN: Mario Power Tennis
Up: Bloom Trampoline (Daisy: 4%, flower: 7%) Daisy performs a high leap off a huge flower ORIGIN: Mario & Sonic series
Down: Duel Partner (Snifit: 5%, canonball: 10%) Daisy summons a Snifit with her Cellucar Shopper, who will charge at her opponents and shoot canonballs at them ORIGIN: Mario Party 3
Final Smash Daisy throws spores all over the stage, making flowers appear. The flowers slow down players. Suddenly, the ground starts to shake, and crystals appear on some points. Whoever gets hit by the crystals will be launched into the air, right next to Daisy. She's then deliver a big punch with flower and crystal effects to the opponent
~Other stuff
Alt. costumes
NOTE: Like Little Mac, Daisy has 16 costumes instead of the regular 8. Also, since Daisy's current look doesn't have color variants, I decided to base her alts (for the current one only, you'll see) off of real life flowers, just like how Duck Hunt Dog's alts are based off real life dogs.
Yellow/Orange: Her iconic dress from the GameCube era onwards
Red/Rose: Resembles a real life rose
_White/Lime green: Resembles a real life lilium
Black/Yellow: Based off Peach's and Rosalina's black and yellow costume to match
N64: Gives Daisy a full set of her N64 appearance, with the long hair, pink crown and white gollop pattern at the bottom. Also comes with an N64 voice
Purple/Dark Purple: Based off her alt. costume in Mario Tennis 64
Blue/White: Based off her sprite in NES Open Tournament Golf
Black/Gray: Based off her monochromatic appearance in the GameBoy era
Striker Uniform: Based off Daisy's striker uniform in Mario Striker Charged
Teal/Orange: Based off her alt. in Mario Strikers Charged
White/Yellow: Based off her biker uniform from the Mario Kart series
_Pink/Light blue: Based off Peach's striker uniform
Sports outfit: Daisy's outfit from the Mario sports games
White/Red: Based off White Mage's color pallete in Mario Sports Mix
Light Blue/Turqoise: Based off Rosalina's color pallete in Mario Tennis Ultra Smash
Green/Blue: Based off Luigi's iconic look from the Mario series
Taunts:
Up: Daisy performs her victory pose from Ultra Smash, while exclaiming "Oh yeah!". N64 Daisy will say "Yahoo!"
Side: Puts both hands on her hips and winks at the player.
Down: Waves around saying "Yeehaw! Hi, I'm Daisy!". N64 will say "Oh, thank you!". Based off her celebratory dance in Mario Tennis.
Victory Poses:
1.) Her victory pose from Mario Party 10. Daisy will say "I'm the winner!", while her N64 version will say "Yay, Daisy's the winner!"
2.) "Hot stuff" from the Mario Strikers series. Daisy will say "Nice shot!" while her N64 version will say "I got it!"
3.) Blows kisses while holding the Flower Cup trophy from the Mario Sports games. She'll say "Thank you!" (like in Mario Power Tennis) while N64 Daisy will say "Oh, thank you!" (Like in Mario Tennis 64) Daisy's Trophy Descriptions
Daisy The princess of Sarasaland, Daisy is a good friend of Peach's, which keeps a truce between her kingdom and the Mushroom Kingdom. She's got quite the sass, which is speculated as the reason Luigi's so smitten with her. Just so you know: this damsel ain't need no plumber to save her. Daisy can hold her own, and if you ever try to kidnap her, she won't be afraid to teach you a lesson or two. Oh, she also enjoys playing sports along with her friends. You weren't expecting that from a princess, were you? Related Games: Super Mario Land (1989) Mario Kart 8 Deluxe (2017)
Daisy (alt.) Don't judge this book by her flowery cover, Daisy posesses superior agility, and can nimbly face off the fiercest powerhouse. Her Neutral B, Superball, is lighter than it looks. It is bouncy, making it harder to predict and avoid. Talking of unpredictable attacks, talk about Flowerbed Return! It's chargable, and can give Daisy the perfect opportunity to either launch you into your doom with her tennis racquet, or laid some hard combos at you!
Blooming Crystals Daisy's Final Smash isn't to be played around with. She will first throw spoes into the stage, that grow into flowers. The flowers will greatly reduce the other firghters' speed and jump height. The earthquake that randomly occurs during the Final Smash isn't just a fancy gimmick to show Daisy's tough, it's a signal that Crystals will soon grow out of the ground! Geez, even by her Final Smash, you can tell how much Daisy loves flowers...

//The trophies below aren't supposed to represent Smash Daisy.
Baby Daisy By those huge blue eye, taste for orange fashion and spunk, you can tell that this baby is none other than Princess Daisy! This cute toddler first showed up as a hidden character in Mario Kart Wii. As you'd expect, she's one of the smallest and lightest racers, but that doesn't prevent her from being straight up tough! Awww... who am I kidding? Don't you wanna pinch her cheeks!? Related Games: Mario Kart Wii (2008) Mario Kart 8 Deluxe
Old-School Daisy The Daisy we know today is a sassy tough-talking tomboy, but that wasn't always the case. In fact, Daisy's personality wasn't nearly as fleshed out as it is today. She used to be dainty and girly, and also had a delicate voice. Visually, Daisy's old-school counterpart differs as well. Her dress had a white gollop pattern at the bottom, her flower accessories were blue instead of green, her hair was long and dark, she had a tan and her crown was pink. We've come so far! Related Games: Super Mario Land (1989) Mario Party 3 (2000)
Peach + Daisy (Heart Coach) Princess Peach's personal kart in Mario Kart: Double Dash!! is an elegant coach known as the Heart Coach. It's part of the Medium Weight Class. Not only Peach can ride on it, though. Her partner, Daisy, can also race on it. The two make a tough combo, with their Heart item, which is capable of shielding them from any incoming item, then giving it to them to use. Oh, did I mention there is an orange version of the Heart Coach, the Bloom Coach? Unsurprisingly, it belongs to Princess Daisy. Related Games: Mario Kart Double Dash!!
Daisy (Tennis) After a long hiatus, Daisy was revived for Mario Tennis, where she was a Technique player who rarely used to miss when playing close to the net. Her strategies have changed since back then, though, as she's now an All-Rounder. This means she is stronger, faster but less accurate when aiming for corners. It was a nice upgrade, as she can now handle any situation, playing similarly to Mario and Luigi. Related Games: Mario Tennis (2000) Mario Tennis: Ultra Smash (2015)
By DarkYoungLink5 (Chris)
Entrance: Daisy comes from the sky and lands on a patch of flowers while saying "Hi I'm Daisy!". If Luigi is present she'll wish him luck before the match.
A Still: She'll use her Olympics boxing gloves for two hits, then a powerful vertical SLAP!!
A Walk: Daisy will cleverly use one of the spear Super Mario Land enemies' Spears to stab the opponet
A Run: She'll preform a sort of shoulder tackle
A Up: She'll use her Freeze Frame camera from MP6 upwards to stun her opponet in their tracks
A Down: Daisy will do a spinning fire kick, like Peach's but she only spins once and it'll cause fire damage
Standered Areail: Daisy will preform a cool axe kick downwards which can spike
Fair: She'll bash a dice block forwards which falls to the ground before disappearing, randomly showing a number. If it rolls the same number twice Daisy will get a speed boost too
Bair: Daisy will do a backwards kick, on fire as well...Owch!
Uair: She'll use her flower racket and swat enemies
Dair: Daisy will do a downwards kick like Mr Game & Watch, Greninja, Zero Suit Samus, Sheik, Sonic and others. 
B: Daisy can create a permanent wall of Evil Stars from Mario Land 2 which is as tall as her. They'll disappear only when touched.
Side B: Daisy will use her Crystal Smash attack, causing three Crystals to spawn in front of her.
Up B: Using her flower racket to fling completely vertical she'll freeze in midair and can choose which direction to preform her Dair on
Down B: Daisy will start charging in spot if the button is held. Once depressed she'll skate off in her faced direction until turned which will make her skid, causing damage. She can stop by going off the stage or by jumping. Her skating will do some damage but also acts as a fast way to travel along the arena.
Anger: This is a special meter that fills up as Daisy is blasted off the stage. It fills up quicker the more she gets K.Oed. Just once in a minute would fill up the gauge completely! Now Daisy gets her attack power and areal mobility increased to deal some hard blows.
Superstar Attack (Final Smash): Daisy Twister
8 giant flowers will head into her opponents, each aiming into one of 8 corners of a joystick. A second round of flowers and a third will come too. It can be avoided as the farther the flowers fly the more space is open for fighters to go through the things. 
Taunts:
1: She'll swing her arms saying "Are you just gonna let me win?"
2: Daisy will wave to the foreground and background saying "Here comes Daisy!"
2 1/2: If the button is pressed along with B Daisy will laugh and put on Luigi's cap. It'll disappear if she dies.​ 
Victory Music: The Double Dash victory jingle
Victory 1: She'll mainly jump for joy and pose saying her Power Tennis victory line
Victory 2: She'll spin and point to the sky, the camera facing upwards akin to Open Tour
Victory 3: Daisy will grab a trophy on the ground with her skates saying "I'll take that.". If against Luigi she'll say "Hey sweetie!" Before the animation and dialog does to normal.
By Cap'n Hawk Fist
⚫Princess Daisy ⚪Debut: Super Mario Land (1989) ⚪Series: Mario
⚫Trophy Description Princess Daisy is the tomboyish princess of Sarasaland that debuted in Super Mario Land. As her name implies, she has an affinity for flowers. Her attire, special abilities, personal emblems, and general representations are often flowers. Although Daisy is the ruler of Sarasaland, she currently resides in the Mushroom Kingdom... a bit weird isn't it?
⚫Entrance A big closed daisy is in the stage. Then, it opens revealing Princess Daisy in it. She celebrates and shouts "Wahoo! Let's get' em!"
⚫Alternate costumes ⚪Orange: Her default appearence. ⚪Pink: Based on Peach. She'll be blonde as well. ⚪Light Blue: Based on Rosalina. She'll be blonde as well. ⚪Gray: Based on her debut in Super Mario Land. The whole character will be of said color. ⚪Red: Loosely based on Pauline. She'll be more brunette too. ⚪Purple: Her dress will be colored with Waluigi's main colors (purple mainly and a little parts will be yellow). ⚪Green: Her dress will be colored mainly with green and some little parts will be brown.
⚫Specials ⚪Neutral B: Floral Tornado (2nd pic) Loosely based on her special move in the Dream Fencing event in Mario & Sonic at the London 2012 Olympic Games. Bassically, is like Zelda's Nayru's Love but instead of reflecting projectiles it absorbs them and so allowing Daisy to use them pressing B again (like Villager does with his Pocket ability). The tornado, however, has smaller size, covering just a bit more of Daisy's main body. The tornado also has offensive properties when Daisy is close to the opponents, like Nayru's Love.
⚪Side B: Wonder Flower (3rd pic) Loosely based on her offensive power shot in Mario Power Tennis. She slams a tennis ball with her racket letting the first to bounce twice forward; the second time, however, forces the ball to disappear into a flower like explosion, inflicting damage. If the player presses B again before the second bounce, the ball will explode immediately, although with less power and knockback.
⚪Up B: Daisy Jump (4th pic) Based on her special abilities in the Athletics events in the Mario & Sonic series. She'll jump very high from a giant flower (about the same height as Sonic's Spring Jump). Also, during the jump, Daisy will be surrounded by a flower-based aura that can damage her opponents, although when she reaches the zenith of the jump, Daisy will enter in a helpless state. The flower itself also inflicts damage.
⚪Down B: Crystal Smash! (5th pic) Based on her Super Ability in Mario Strikers Charged. Daisy punches the ground, summoning a ring of huge sharp orange crystals that surrounds her for about five seconds, which knock all players around the surrounding area. Any player who stays in the zone, will be slammed by the quake, and will be dazed for a few seconds. It's possible to hit Daisy in the ring if the player wasn't hit by it. This move has a shorter range than its Mario Strikers Charged incarnation.
⚪Final Smash: Crystallized Daisy (6th pic) Based on her Mega Strike from Mario Strikers Charged. When the Final Smash is activated, Daisy slaps the opponents she has nearby in the front (like when she slapped Bowser in a cutscene of Mario Party 3) and sends them up to the air. She jumps up high into the air with the opponents. She raises her hand charging the blue crystals into her clenched fist as her skin tuns black and her eyes glow a bright blue colour and she punches the opponents the ground emitting the blue shining crystals. Similar to Ike's Great Aether and Greninja's Secret Ninja Attack although missing the aerial combo, that's why the slap and the crystallized punch inflicts greater damage.
⚫Taunts Up Taunt: Poses to the camera and shouts "Hi, I'm Daisy!" Side Taunt: Takes out a soccer ball and juggles it three times (don't think her dress will hinder her!) Down Taunt: Like Ganondorf's down taunt, although she'll be watching her racket upwards, nodding.
⚫Victory screens 1) She'll do a dancing spin and then winks saying "Woo! Not too bad, right?" 2) Jumps excited twice, poses with her left hand upwards and says "I'm a Superstar!" ⚪If Peach or Rosalina are in a match, she'll say instead: "The spotlight is mine now!" 3) She goes on-screen skating (like in her Mario Power Tennis trophy celebration). Then stops and poses shouting "Alright, I won! Take that!" ⚪If Luigi is present, she'll say instead: "Hey sweetie, I won!"
⚫*Losing screen* Daisy will turn around her face, annoyed.
⚫Snake Codec ⚪Snake: Otacon... there's a girl here obsessed with flowers that looks like Peach. Is she related to her in any way? ⚪Otacon: That's Princess Daisy, the Princess of Sarasaland, which is a land consisting of four kingdoms: Birabuto, Muda, Easton and Chai. ⚪Snake: Four kingdoms uh? She must be very proud of herself... ⚪Otacon: You bet she is, although I think is mostly because she is a big athlete. And unlike Peach, she doesn't gives herself up that easily. Although there was one time she was kidnapped by Tatanga... ⚪Snake: Tatanga? ⚪Otacon: An alien from a mysterious origin. Although that's the only time she was captured according to our database. ⚪Snake: At least she can protect herself better than Peach with those flower-sports based attacks... this is gonna be interesting...
⚫Palutena's Guidance. ⚪Pit: Viridi, remember Luigi? ⚪Viridi: That overshadowed boy? Yeah... ⚪Pit: He must be grateful, he's just overshadowed by one person. But Daisy... ⚪Viridi: What's with her...? ⚪Palutena: She is overshadowed by Peach and Rosalina. That's a double shadow, even darker! ⚪Pit: Hehe... we said "shadow" a lot of times already don't you think, Lady Palutena? ⚪Palutena: Well, the ones that are in the shadows are made to shine brighter than others! ⚪Pit: Oh... I should've brought my sunglasses! ⚪Palutena: ...
⚫Home Stage: Sarasaland: A transitional stage. Begins with a modern version of Birabuto, then changes to a modern Muda, later a modern Easton and finally, a modern Chai (and Daisy's Castle at the background). Obviously, this cycle repeats itself until the match ends. The transitions will be like the ones in the Castle Siege stage. The Omega form of the stage, however, will be in a single platform stuck in Birabuto. It'll feature the following tracks: ⚪Super Mario Land medley (Mario & Sonic at the Sochi 2014 Winter Olympic Games) ⚪Boss Battle (Super Mario Land) ⚪Final Boss (Super Mario Land) ⚪Ending Theme (Super Mario Land) ⚪Daisy Cruise (Mario Kart: Double Dash) ⚪Daisy Circuit (Mario Kart Wii)
By Umbra Witch Jeanne
❁ Entrance ❁ uses Teleport (Like in Mario Strikers) and when She Lands Flowers Bloom and when he says "GO!" The Flowers Disappear.
❁ Appearance ❁ Daisy Wears Her Iconic Dress, With Slightly Changes like Having a Little Details on the Dress. And N64 Daisy As alt costume Similar to Bayonetta's Alt (The Older Bayo and The New Bayo) Costumes: 1, Daisy wears her default orange Dress 2, Old Daisy as Alt 3, Daisy wears black and Teal-blue (Like in Mario Strikers) 4, old Daisy wears black and white like in SML 5, Daisy Wears White and red Resembles Fire Daisy 6, Old Daisy Wears Peach's colors 7, Daisy Wears Pauline's Colors 8, Old Daisy Wears Rosalina's Colors
❁ Idle ❁ 1. Daisy Dance a Little bit Like in MP star rush 2. Daisy Bows Also Like MP star Rush 3. Daisy Put Her Hand on her Hair Like Mario Golf World Tour Par Animation

❁ Moves ❁
Neutral attack: She Slaps Like Peach But With Higher Damage
Tilts Side: Daisy Shove her Opponents Like in MP10 (Minigame, Platform Push) Up: She Summons Pom Poms and She Swing Up (Like In Mario Sports Mix) Down: She Attack with Her Heel
Air Attacks Neutral: She Spins With Flower effects Front: Daisy Jump Kick Like In MP10 (Also in Platform push) Back: Similar Like Front Air But with Back and of course it deals More Damage and Launchs Further Down: Daisy Do Ground Pound
Dash Attack (Daisy Run Animation Would be Like MP10/SR Running Animation. For walking animation Woud also be Like MP10/SR) She Will Do Floral Tornado Like in Mario & Sonic Series (Similar to Mega Man)
Smash Attacks Up: Summons Wall of Crystal That Can hit Enemies Upward and Reflect (Similar to Lucas) Side: She Bring Her Camera and Stun her Opponents for Limited Time (MP6 Minigame: freeze Frame) Down: Daisy Punches The Ground And Summon Large Sharp Crystals (The Crystals Would Be the Same Size as Daisy) Origin: (Mario Strikers)
Grabs Grab attack: weak Slaps (It as Fast as Peach's)
Throws Front: Daisy Throw her opponent and then hit Them With Super Fireball (Similar to Falco) Back: She Throws her Opponents Backwards Via Telekinesis Like in Mario Hoops 3-on-3 Up: Daisy quickly Summons Pom Poms and she jumps while Throwing Her Opponents Upwards Down: Daisy quickly makes Flowers Bloom on her Opponent and Burry Them in The Ground
Specials Neutral: She Summons The Friendly Dice But Without Numbers, so it Have Items instead Like Sport items, Golf, Tennis Racket, Hockey Stick But It will Make more Sense if it is Super Mario Land Items, Having Super Fireball, Invisible Star, Super Mushroom and Coins Side: Daisy Uses Flower Trampoline Let Her Travel Further Without Leaving Defenceless (Similar To Palutena's Super Speed) origin: Mario & Sonic Series* Up: Daisy Uses Teleport To Travel Any Angle (Mario Strikers) Down: Summons Snifit With Her Cellular Shopper who will Grab Opponent Or Shoot Canonballs But Still Protect Daisy Like Zelda's Phantom
Final Smash she Slap Opponents and Send them Flying In The Sky and Then Daisy Jump as Crystallized Daisy And Then Punch Them In The Ground
❁ Taunts ❁ Up: Daisy Do her Princess Pose Like in SML Side: Put Her Hands on Her Hips and Then Winks Like Her Main Pose Down: Daisy Make Flowers Bloom and giggles
By Daisy Corner
Mario Odyssey Moveset Time: Sand Queen Daisy Version Daisy wears an upgraded version of her regular dress, combined with a sombrero hat.
Down B: Moe-Eye A Moe-Eye pops out of the ground in front of Daisy. The Moe-Eye has two "'modes" If he has his sunglasses off, he walks around. However, if the Moe-Eye is hit, it starts running towards Daisy, dealing damage and heavy knockback. A safer, but less rewarding mode is his "sunglasses on" mode. In this mode, he stands still, but since he's concentrating onto the nice view, he won't notice that he's attacked. Daisy can change modes by throwing her hat with her Neutral B, which is the only atack Moe-Eye doesn't mind.
Moe-Eye have the standard capabilities of a wall, being used to block opponents from advancing, but also being used to jump, or even wall jump, from.
Neutral B: Hat Throw Daisy throws her sombrero. She can throw her hat in eight directions like Mega Man's Metal Blade. If the hat hits an opponent, it's hit with a multi-hit attack, like Greninja's fully charged Water Shuriken. Her hat cannot be caught and does not act as an item.
If the player holds the B button, she can throw the hat in a circle around her, with a rainbow trail appearing behind it. This move is more powerful, but since the hat circles a good distance away from her, the move leaves a blind spot despite going around her body, hitting both front and back.
This move is Daisy's main combo starter and main tool to control the Moe-Eye
Side B: Jaxi Daisy hops onto a Jaxi, which sends her speeding forwards. Daisy can jump off the Jaxi at any time, which might be useful since the Jaxi can't be controlled and will not stop at the ledge if it sees one. However, the Jaxi will stop and disappear as soon as Daisy jumped off. Daisy can also not jump off as soon as the Jaxi has begun its trail, having to wait a few frames. If the Jaxi crashes into an opponent, the opponent is launched with heavy knockback, although Daisy gets send back as well due to the recoil. The real use of Jaxis reveals itself when one crashes into a Moe-Eye, which sends the Moe-Eye flying like Pac-Man's Fire Hydrant, all while the Jaxi keeps going. This allows Daisy to truly pressure the opponent in a quite non-subtle way. (Only wusses need tight spacing to pressure, am I right Peach?) If everything aligns, Daisy can even break a shield by slamming a Jaxi into a Moe-Eye, jumping off and hitting the opponent with another move (With the hat throw being the safest, but not the most damaging)
Up B: Flower Trampoline Daisy jumps off of a Flower Trampoline as seen in the various game footage. This sends her directly upwards. For her horizontal recovery, she'll automatically slowly glide through the air by spinning around after performing the move. This spin is a bit faster than her normal air speed and she can cancel the spin at any time, but this makes her even more helpless considering her high fall speed and slow air speed.
By Seinc KoopaTroopaFan
By marco paolucci/ TheKingOfSarasaland
Specials -
Neutral B: Daisy will charge a crystal fist and will punch the opponent, similar to Captain Falcon's falcon punch.
Side B: Daisy uses her Flowerbed Return (Mario Power Tennis) attack making flowers under hers, she will use a final kick at the end when the enemy is around here, she will make a small damage if the opponent only one small hit but it can be average if the opponent got in the rage for too long and the end.
Up B: Daisy uses her Flower Trampoline (Mario & Sonic series), a flower will bloom under Daisy and she will be able to jump, when she jumps petals will appear, this goes to a good distance and also works horizontally.
Down B: Daisy uses a kick that goes 360 degrees, can be powerful if the opponent has a high damage.
Smashes -
Side Smash: Daisy use a slap that is REALLY powerful (Mario Party 3 when she slapped Bowser away), the attack is pretty slow before and after the slap will be executed.
Up Smash: Daisy uses her tennis racquet and swing a shot, fast and with a decent power.
Down Smash: Daisy uses her Crystal Smash. This move comes out very quickly but the crystals will disappear more slowly. If the opponent is right beside Daisy, the only damage they will take is from Daisy punching the ground.
Aerials -
Neutral: aerial kicks, medium speed and power (all the aerials are the same).
Forward: Punch the opponent.
Down: Kick the opponent like a soccer ball.
Back: Daisy swings her leg behind her.
Up: Kick the opponent with a 360 degrees kick like she us hitting an aerial soccer ball.
Grabs - Every grab will cause a flower to appear on the opponent but unlike the classic flower that Lip's wand can do it will be inspired by Daisy's emblem.
Up: launch the opponent on the air then slaps it away like a service at volleyball.
Down: Daisy kicks the opponent.
Frontal: Daisy slap the opponent away.
Back: Daisy kicks the opponent away.
Tilts-
Up: Small slap.
Side: Daisy uses a Flowerball (Super Mario Land)
Down: Daisy puts her hands on the air, close them for making fists and punch the ground.
Others -
Jab: Daisy delivers a series of punches.
Dash Attack: Daisy uses a lateral punch.
Dodging: Daisy uses her teleportation ability like Rosalina and Paultena (Like in Mario Strikers games).
Other things -
- Daisy is heavier than Peach and Rosalina but she is sightly lighter than Mario or Luigi. - Daisy's land speed is middle to fast. - Daisy can do wall jumps. - Daisy falls faster than Peach and Rosalina. - Daisy is All-around like Mario and generally got moves with average power but she has few powerful moves like Captain Falcon does, however the recover for the most powerful moves is slow. - Daisy's second jump is sightly higher than Peach's one.
Taunts -
1st: Similar to her animation when she is chosen in Mario Sports Mix. 2nd: Daisy puts her hands on her hips and does a wink. 3rd: Daisy takes her tennis racquet and puts it on her shoulder and makes it spin for a second.
Victory poses -
1st: Same from her 1st animation in Mario Party 10. 2nd: Daisy does a juming dead backwards and poses. 3rd: Daisy does a moves similar to the one when she is picked in Mario & Sonic games and says "in your face!"
Final Smash -
Sky Pop: The Sky Pop arrives and Daisy jumps on it, it's really fast and can shots small cannonballs with an average damage, they are really fast and you can shots them consecutively.
By Dream
DAISY BLOOMS INTO ACTION! Bio:Princess Daisy is the princess of Sarasaland, a desert land with lots of beautiful flowers and kind residents. Daisy has been kidnapped by an evil alien named Tatanga back in 1989. Instead of Princess Peach needing to be saved, it was Daisy who needed saving. While Peach's attacks are princess-like, Daisy's attacks are flowery.
Moveset:
Standard A Combo- Shoots the player with rapid fire flower buds from her flower gun (as seen in the drawing) while also punching the player.
Side Tilt- Shoots player with her flower gun with flower buds. Different flower buds will do different kinds of damage.
Up Tilt- A back-hand flip.
Down Tilt- Does a drilling attack while spinning (like an actual drill).
Standard Air Attack- Flower Buds rise from the ground and blooms once they reach Daisy to make a multi-hit attack.
Side Air Attack- Throws a bouncy ball (the ball Mario uses as a powerup in Super Mario Land) causing players to get low damaged, but being pushed to fall off the stage.
Up Air Attack- Shoots a venus fly trap plant out of her gun to cause the player to be trapped doing more damage the longer Daisy charged up her gun.
Down Air Attack- Drills downwards.
Side Smash- Slaps the player (reference to Mario Party 3 where Daisy slaps Bowser far away).
Up Smash- Smacks the player with her gun.
Down Smash- Stomps one foot on the ground to make crystals come up from the ground (reference to Mario Strikers Charged).
Standard Special- Shoots multiple (4) flower buds out of her gun on each side of her (2 buds on each side of her) and tries to push players of the stage on each side but doesn't push them much.
Side Special- Throws a bouncy ball at the players that can bounce off of walls (another reference to Super Mario Land). The more it is charged up, the larger the ball will be.
Up Special- Shoots a piranha plant out of her gun, traps the player, and puts the player in her gun. Then, shoots the player sideways to try and shoot them off the stage. Daisy may have to be careful, other players can attack her and she can loose the player thats in her gun.
Down Special- Similar to Mega Man, Daisy creates flowers that circles around her like a shield and can throw it at the player doing different kinds of damage depending on what color the flowers are.
Blue flowers doing low damage. Orange Flowers doing medium damage. Red flowers doing high damage but rare to get.
Final Smash- Daisy gets into Mario Ship (like in Super Mario Land, where Mario goes into a ship to defeat Tatanga) and rapid fires 3 horizontal lines of Daisy Flowers to the right.
Here are some of the extras:
Taunts- 1. Daisy grabs a flower out of her gun and smells it. 2. Daisy puts her hands on her hips and says "come on". 3. Daisy says "Piece of Daisies" while putting her hands behind her back.
Idle Poses- 1. Daisy crosses her arms tapping one foot. 2. Daisy glances at the screen and puts her hands on her hips. 3. Daisy plants a flower seed in the ground
Victory Animations- 1. Daisy winks at the screen with her hands on her hips and says, "Daisy's got it" and then lifts up her flower gun with her other hand still on her hips. 2. Daisy smells the air and says "The smell of victory" while her hands are behind her back. 3. Daisy pulls a Daisy from her gun and says, "This is for you".
Stage Idea: If Daisy were to get her own stage, I would want it to be in Sarasaland. It would show Daisy's castle in the background and her residents.
Daisy's Design: I wanted Daisy to look really different from Peach so that Daisy can fit into the tomboy personality. So removed her dress (I forgot to draw her crown on) and put her in this sports outfit and gave her a gun to make the movesets unique. Her gun is called the Warning Bud, where Daisy can shoot any flower out of her gun. I also made her a choker because the amulet that is on her dress didn't look right on the outfit, so I gave her a flowery choker and on her shirt, it says "Flower Power".
By Mario9919
Standard B: Flower Spin
Side B: Daisy Bomber
Up B: Daisy Parasol
Down B: Dice Toss
Final Smash: Crystal Smash (or Crystal Crush)
By Luigi and Daisy Fan #1
Her outfit in the game should be her two Mario Strikers Charged uniforms, orange and teal. She should be able to use Mario's, Luigi's, Peach's and Waluigi's color scheme as an alternate costume. The last two should be black with gold, yellow and white accents and blue with green, yellow and white accent. And should have her crystal gauntlet she uses in her mega strike on her right hand. I thought that she should also be in her dress and 7 other dresses. Also, the crown should change colors depending on the dress she's wearing (like Peach and Zelda). Her crown will not change color when she's wearing the teal uniform, Peach's dress and the teal dress. Peach's color scheme and hair color, black and gold, white and green, emerald, red, teal and sapphire. She should also wear her dress, with more details, just like Peach's dresses, but in her version.
Taunts
Oh yeah?! Then she gets in a boxing stance and says, Come on! (Mario Strikers Charged Away Entrance) in her uniform and says "Here we go!" when she's wearing her dress.
She wipes her shoulders when she's in her soccer uniform and dress.
Changes to her dress when she's wearing her soccer uniform and changes to her soccer uniform when she's wearing a dress and winks. (Orange uniform - main dress, Teal uniform - teal dress, Peach's uniform - Peach's dress, Luigi's uniform - emerald dress, Mario's uniform - red dress, Black and Gold uniform - black and gold dress, Blue and Green uniform - sapphire dress, Waluigi's uniform - white and green dress) and vice-versa.

When she's inhaled by Kirby, he'll be wearing her crown.

Special Attacks
Neutral: Torpedo Strike (Super Mario Strikers) a metallic ball like the one in Mario Strikers Charged will be formed and charged. The longer you hold the special button (B), the stronger the move. The ball explodes on contact. Also, when fully charged, she will the torpedo strike animation in Mario Super Strikers,.
Side: Tackle (Mario Strikers Charged). This move is only tackling your opponent and if it makes contact at the right time, this move can launch an opponent.
Up: Petal Storm: Flower Pompoms from Mario Sports Mix will be formed on Daisy's hands and she'll jump in the air. While she jumps, she'll be surrounded by daisy petals and any fighter that comes close to her while she's doing the move
Down: Crystal Smash (Mario Strikers Charged). 4 big orange crystals will immerge from the ground, two in front of Daisy and two behind her and will do more damage on foes who are on the ground than those who are on the air and falling towards the crystals. A very powerful move that doesn't changes the size of the crystals that she summons, no matter how many time she uses this move. Final Smash
Crystalized Daisy: Just like her mega strike, Daisy will kick the ball in the air, jump towards it, rise her right fist, the ball gets crystalized and when it reaches full size, she'll punch it towards the other fighters and they'll get hit. When being touched by a piece of the shattered crystal, it will break and the fighter will take important damage. Shielding against the crystals will be useless because it'll break through. When she's in her dress, she'll change into her soccer uniform with the blue crystal gauntlet on her right hand and at the end of the final smash, she'll change back into her dress.

Slide attack: As you run with Daisy, she'll slide tackle any fighters she's runs into (Mario Strikers Charged). She'll be able to send her foes flying upwards. Dodge: She'll use her deke to dodge in the front and back (Mario Strikers Charged). When she's wearing her soccer uniform, she'll be running fast like Captain Falcon and Little Mac will give more damage and will be launched easier to be launched than when she wearing her dress. She'll be able to jump through walls. Her rival will be Little Mac. When she's wearing her dress, she'll be fast like Peach but will be more powerful than her. She will have more defense than when she's wearing her soccer uniform
I also came up with custom special moves
Neutral
Flower Strike: the ball becomes a daisy and anyone who gets hit by it will have a daisy on their head and will gradually receive damage that will go by 3% damage.
Crystal Strike: A crystal ball will be formed and will take longer to charge but will be more powerful.
Side
Daisy Tackle: A tackle that plants a daisy on opponents' heads and will gradually receive damage that will go by 7% damage.
Blazing Tackle: A more powerful tackle that goes farther and faster, but takes a bit more time to charge. When it touches a fighter, he/she will be on fire, just like when Luigi's Green Missile hits a fighter.
Up
Petal Boost: Daisy will jump and daisy petals will appear below her feet to give her a boost to jump high. An excellent recovery move that goes high and can go in all directions (up, down, left and right). It will not give damage to any fighter that are in her way.
Crystal Pillar: Daisy will summon a tall teal crystal that will only make her go upwards. If used while in the air, the pillar will fall on opponents and deal a lot of damage, after hitting the ground, it will break into pieces that will a small amount of damage to anyone it touches. At the beginning of the move, it has a meteor smash, great to stop players from recovering.
Down Crystal Shield: Summons one big crystal that will be able to reflect projectiles and makes them twice as strong and fast. Unfortunately, it won't give damage to anyone when summoned.
Crystal Barrage similar to Crystal Smash, the crystals will appear only in front of Daisy, but will be smaller and be wider.
In uniform

Attack
Standard: Multiple punches and a kick at the end.
Side: She charges the attack and delivers a powerful and unstoppable punch with her right hand, the one with the crystal gauntlet.
Up: A daisy will appear on top of her left hand and anyone who touches the flower, will take damage.
Down: She'll do the splits (To show off her flexibility)

Aerial Attack
Standard: She'll do a spin in the air
Side: She will extend her right hand and slap an opponent when one comes close to her.
Up: Punches her opponents with her right hand (the hand with the crystal gauntlet).
Down: Does a flip while grabbing an opponent and throw it down, if caught at the right time. If not, just hits the opponent downwards with her feet.

Grabs
In her soccer uniform, Daisy will grab an opponent with her left hand and knee them with her left knee.
Left: She will toss the opponent behind right and kick the fighter to send it flying.
Right: She will throw her grabbed opponent in front of her a very little distance and will punch the fighter with her right hand and send them flying to the left.
Up: She will throw her grabbed opponent in the air and give the fighter an uppercut.
Down: She will only throw them on the ground and the grabbed opponent will flying high.
Victory Animation
The last three victory animation of her Mario Strikers Charged appearance in this video. https://youtu.be/pFNAyDJX7B4
In dress

Attack
Standard: Multiple slaps, a kick and a punch at the end.
Side: She give a powerful slap that will launch an opponent (Like the one she gave Bowser on Mario Party 3 for being in her way).
Up: A daisy will appear on top of her left hand and anyone who touches the flower, will take damage.
Down: Crouch down and will touch the ground with her left hand that will make two daisies appear on her left and right and any fighters that touches one of them will be launched upwards and if connected at the right time, they'll receive a lot of damage like Jigglypuff's rest move.

Aerial Attack
Standard: Same as when she's in her uniform, she'll so a spin.
Side: She'll kick her opponents and if connected at the right time, she'll be able to give more damage than a normal sidekick and a daisy will appear after the perfect impact.
Up: Her floral pompom will appear on her left hand and hit foes above her.
Down: She will kick with both legs below her and if connected at the right time, the foes below her will meteor smashed.

Grabs The same way as when she's wearing her soccer uniform. Left: Same as Mario and Luigi, when they spin the grabbed opponent and throws the fighter behind them. Right: Does a spin, throws the grabbed opponent and kicks it with both feet. Up: She will throw her grabbed opponent in the air and will do a backflip and kick the fighter high in the air. Down: Throws the grabbed opponent, step on him/her and finishes with a big jump that sends the fighter in the air.

Victory Animation Spins while yelling Yahoooooo! Followed up by a jump and a does a pose and say I did it! During all that, she has a smile on her face. Puts her hands on her hips and says Yeah! Says I'm the besssst! While she lifts her right arm does a thumbs up toward herself. Jumps around and says Woooohoooo, Woooohoooo! Stops jumping and puts her left fist in the air and says I won! Smiles and her right hand is at her right hip.
Trailer In the beginning of the trailer, after we see the smash bros. cross, we'll have Bowser, Bowser Jr., the Koopalings and Wario are attacking the Mario gang (Good guys) Mario, Luigi, Peach, Rosalina, Yoshi, Donkey Kong and Diddy Kong, including Sonic and Zelda at the same where Mega Man and Bowser Jr. fought at the beginning of their trailer. During all the fighting, a bunch of daisies appear on the field where and some fighters (Luigi, Peach and Mario) are realizing them. Then suddenly, all the fighters are blinded by a light. They go look at the direction where the light came from and see a giant daisy appearing on the battlefield and blooms and starts showing Daisy's figure/silhouette in the light of the giant daisy. After we see her figure/silhouette, we will see limbs of her, showing she's wearing her orange Mario Strikers Charged uniform. We'll first see her left foot, then her right foot, her left arm and after, her right hand, with her teal crystal gauntlet and we'll see her whole body. She'll put her left hand on her hip and it says Daisy blooms into battle! After she is revealed and her title is shown "Daisy blooms into battle!", she is seen fighting on the Sarasaland stage, in the Muda Kingdom Ike, Lucina, Mewtwo, Samus and using her neutral special attack, Torpedo Strike against Ike when he was about to use his move Quick Draw and then launches him. After this part, she battles Donkey Kong, Bowser and Ganondorf still on the Sarasaland stage, this time, at the Birabuto Kingdom when they all try to attack her and that's when she K.O's them by using her down special, Crystal Smash and does a taunt (Cleaning herself). After that scene, we returned to where the other characters (Bowser, Bowser Jr., the Koopalings, Wario, Mario, Luigi, Peach, Rosalina, Yoshi, Donkey Kong and Diddy Kong, Sonic and Zelda) battle and she gets knocked close to Mario and friends, they come to help her but she raises her hand, showing them she got this. They all get close to her to attack her, especially Wendy when she fires a cannon ball at Daisy and with her right hand, she's able to send the cannon ball back at Wendy and knocking her towards all of the bad guys. Now, we're back at the Sarasaland stage but this time in the Chai Kingdom, where she is wearing her orange dress and battles Peach, Rosalina and Luma, Zelda and Palutena and she K.O's Rosalina by using her down smash attack and K.O's Peach by using her side special, Tackle. Now at the Easton Kingdom, still in her dress, he hits the smash ball by using her up special attack, Petal Strom and uses her final smash to K.O Ryu, Cloud, Zero Suit Samus and Female Robin and gets back to her dress. After that, the logo of the game will appear, making this the end of her trailer. Getting close to the end, we see her in her orange soccer uniform and Little Mac walks in the scene and then, she uses her side taunt (Away Entrance in Mario Strikers Charged) to Little Mac and both charged their punches and after that, we see her in 8 different color schemes, 4 soccer uniforms and dresses. The first four color scheme of Daisy will be in her soccer uniform in this order: orange, teal, pink and green uniforms and for the dresses: orange, teal, pink and emerald. All fighting against each other in the Sarasaland Stage again in the Chai Kingdom. And that is the end of the trailer.
I even thought of a conversation for Palutena's guide.

Pit: Who's this fighter Lady Palutena? Palutena: That's Princess Daisy, ruler of a kingdom named Sarasaland. Pit: Sara what? Palutena: Sarasaland Pit: That's a hard word to say. Viridi: Even I can't say it. Anyways, did you know that she got kidnapped once and not by Bowser? She was kidnapped by an alien called Tatanga. And she's known to be a tomboy. Pit: Really? I bet Princess Peach is jealous or Daisy is jealous or the other way around. Palutena: That is a possibility! Anyways, this princess gives devastating hits to her opponents and is really fast. Viridi: That's right, her Crystal Smash attack is so powerful. You'll take major damage. And her Torpedo Strike is also powerful. You can say she's a powerhouse. Pit: Now, you're scaring me. Palutena: You don't have to be scared Pit! Her attacks may be powerful, but they do leave openings, can you find them? Pit: Not really! Viridi: You're so blind. When she uses her Crystal Smash, she'll leave an opening for an attack above her and you can use your Guardian Orbitars to reflect it and the other opening is when she's charging. Pit: Ohhhhhh! Now I see it! Viridi: Good luck Pit, you're going to need it.
That's my idea to how Daisy should be in Smash Bros.! Also, she should come with a stage called Sarasaland. It will be a travelling stage, moving through the 4 different kingdoms (Birabuto Kingdom, Muda Kingdom, Easton Kingdom and Chai Kingdom). The ruler of the other kingdoms can aid you in battle. All you have to do is to attack them and they'll be on your side, just like when you attack the flying man in the Magicant stage in the 3Ds version, but not for the rest of the fight. When you'll leave one of the kingdom, its ruler will no longer help you. They'll leave the fight after 1 minute. You'll be staying in each kingdom for 1 minute and it's off to the next one. The first place will be in the Birabuto Kingdom, ruled by King Totomesu. He'll be the first ruler who you can attack to help you in battles for a minute and will appear in a few seconds after the moving platform arrived. And then, it's off to the next kingdom. The way he'll assist fighters is by shooting at other fighters, starching them and pouncing on fighters. The second place is at the Muda Kingdom, ruled by Dragonzamasu. The moving platform will be on top of the ocean of the Muda Kingdom with pointy rocks on the bottom. Dragonzamasu will appear on the platform a few seconds after it arrived at its destination. Dragonzamasu will help the fighter by shooting fire to the other fighters. He can also grab fighters by his tail and throw and away for 1 minutes, and then he leaves as the platform is rising, leaving the Muda Kingdom to go to the next kingdom. The next kingdom is the Easton Kingdom, ruled by Hiyoihoi. The platform will on the ground, just like in the Chai Kingdom. Hiyoihoi will appear a few second after the moving platform has arrived. He'll be throwing Ganchan boulders to other fighters as well as jumping on them. If he jumps on you while you're in the air, it's a meteor smash and if on the ground, you'll be buried for a while. After the minute is up, the platform appear and returns where it started and it continues in that order. The last kingdom is the Chai Kingdom, Daisy's home. This is the only part that doesn't have an assistant to help during a battle. Since Daisy is the ruler of this kingdom and. The battle will happen in front of her castle. These attack are from Super Mario Land game and added a few things to make it more interesting.
Also, there will be a trailer of mii fighters will have a new costume, Mario Strikers Charged uniforms of a few captains, including the alternate uniforms of certain captains for Mii Brawlers. Mario, Luigi, Wario, Waluigi and Yoshi's uniforms will be for the male mii brawlers, and a Yoshi hat will come with the Yoshi uniform. Peach and Daisy's uniforms will be for the female mii brawlers. Even Peach's unused alternate uniform will be used and her ponytail will come with her uniform. Petey Piranha's uniforms will be available for both male and female mii brawlers. I decided to make a Rosalina uniform. It will be turquoise with white and yellow accent. Her number will be 17 and her team emblem will be three shooting power stars. Her soccer uniform will come with Rosalina's crown. It took me several months to think about all this and write, since I was so busy with college and everything. Also, she should come with two amiibos. One on her orange soccer uniform and the other in her dress.
By Matthew Curzon
By Ninunso
Her outfit would be her Mario Striker Charge footballoutfit with little changes. You can see it on my Insagram side (ninunso).
I only have ideas for her specials:
Neutral B: Daisy will fire a Mario Land fireball with the sound of it. Like Mario and Luigi
Side B: The bee of Mario Land comes and shoot 3 spikes i front of Daisy.
Up B: Daisy will do a multi hit attack with a catapult effect at the end. She will have a flower on her hand and goes diagonal high but you can also can change the direction a little bit.
Down B: Daisy will counter with a flower punch upwards.
Special: Daisy will paralize her aponents like Kirby and than fire lots of Mario Land fire balls with their sounds and at the and she will jump to the enemy and land a cristal cave.
Votes
Here it is! Since now and until tomorrow evening you can vote and call other people to vote for the best Daisy Smash moveset!
Winners
Cool dunin97 and Cap'n Hawk Fist. Congratulations! Runner up - Luigi and Daisy fan #1
Super Mario Odyssey DLC Contest
Guidelines : In a recent interview, M. Yoshiaki stated that he would consider ideas for SMO DLCs if they were credible and complete.
This is why you had 10 weeks to create a COMPLETE, ORIGINAL, UNIQUE and CREDIBLE project for a potential SMO DLC including Daisy, Sarasaland and Rosalina.
Prize : The winner's idea will be collectively sent to Nintendo and if Daisy AND Sarasaland officially get in Super Mario Odyssey, the winner will receive 100€ (or the equivalent if living in an other country than EU).
Voting period: From the 17th of May, 2018 to the 1st of June, 2018.
Entries :
Victor Adam/ Ice Cream Cone
In the Sand Kingdom, there will be MORE references to Sarasaland. Similar to the "Wedding Dress" costume, they could make a Peach & Daisy dress. Also, in the Moon Kingdom you could find Rosalina who gives you side quests for Power Moons. Unlike Luigi's Balloon World, this only takes place in the Moon Kingdom. There can even be a Billboard in the Metro Kingdom (New Donk City) That says: Princess Girls with Peach, Daisy and Rosalina. Maybe there could be a Bonneter with a similar personality to Daisy.
DG_777player
Daisy should be included in the Sand Kingdom from Super Mario Odyssey. The Sand Kingdom has some references to Sarasaland (Moe-eyes, the desert theme,...) so it could fit the Super Mario Land theme. Sand Kingdom could be revealed to be the new name of Sarasaland. Sarasaland had four kingdoms that were separated (but in the same territory) and Mario did not return to Sarasaland since (aproximadatly) 1989. So, in the meantime, it could have changed its political system to become a unified kingdom with the name of "Sand Kingdom" because, if it continued to be named Sarasaland, it would be only place in the Super Mario World that would not have the name of "kingdom". I think that this would make sense to find a way to put Sarasaland in the map (it is strange that it is not there) and Daisy could appear as a surprise DLC character (like Luigi) in the Sand Kingdom. She could be the host of a minigame or be like Pauline (simply the ruler of Sand Kingdom that was previously known as Sarasaland) and give some small tasks.
I think that Rosalina could appear in the Moon Kingdom. The Moon Kingdom technically is in space, so it would be the best kingdom for her to appear since Super Mario Galaxy also happened in space too. Just like Luigi, she could be included as a surprise character and be the host of a minigame or simply do her actual role of being the ruler of the cosmos and (consequently) the ruler of the Moon Kingdom. The DLC could include something like the Comet Observatory appearing misteriously next to the Moon Kingdom after completing the game and Mario needs to explore it again to search for extra power moons.
Hainy Claire
DLC Idea: Features: New World, New story, New Quest, and New playable Character New world: its sarasaland, it's whole new World, it have the 4 gigantic Kingdoms (and possibly new Kingdoms?) Birabuto, Muda, Easton, and Chai. (Birabuto is Egypt-styled kingdom while desert kingdom in odyssey is Mexican-styled Desert. Same with Muda, Muda is Most likely France-styled kingdom while Luncheon is Nowhere near France. And Bowser's kingdom is Japanese styled kingdom so it's different From Chai, the china-styled kingdom. Theres no kingdom in odyssey looks like Easton so Those 4 kingdoms are so unique and different from the ones in odyssey so it would be interesting to have them in odyssey. Story: (this story happened before mario's main story when they said in very beginning in odyssey that Mario and bowser were fighting in the ship, in the mean time Luigi's story happened which it would explain Luigi Disappearance) Sarasaland Warp Pipe Appears in Mushroom Kingdom.
Joey Ippolito
Quest to save king Boutineer (the name I thought of for Daisy's dad; (boutineer is the flower that men wear with a tuxedo, since Daisy is a flower, I'd assume that her dad could be named after a flower too) In the post game, Mario takes a trip on the odyssey with Luigi and Peach to see Luigi's girlfriend, Daisy. When they get there, they see that her and her dad are having a race. Daisy ends up winning and says, "see, I never lose to you, dad(reminiscent of the line in mario party 3 when daisy says that she has never lost, not even to her dad)." After that, the King says, "ugh, how embarrassing." Then the real story begins. Tatanga swoops in and takes the king. Mario and Luigi, being the gentlemen that they are, try to jump onto his ship, but fail and end up getting captured too, along with Peach. As they fly off to Chai Kindgom,(the place where Daisy got kidnapped) Peach drops Tiara and tells her to keep Daisy company along her journey(Tiara would change forms into Daisy's crown, just like Cappy turned to Mario's hat, and would act identical to him). Daisy would have to journey through the four islands of Sarasaland in a 3d style, complete with the enemies and bosses as well. Instead of the flagpole, moons are still collected. When she defeats the final boss, Tatanga(right, you guessed it), she, along with Mario, Luigi, King, and Peach push him into the cage where Mario, Luigi, King, and Peach were held captive. Tatanga then says "I'll get my revenge!!!" in response, Daisy asks Luigi to marry her, and Luigi says yes. Luigi's wedding outfit is his bowtie while Daisy's is a wedding dress similar to Peach's, with Tiara filling the same role. In the end, the two get married, with Mario as the best man, Peach as the maid of Honor, the King marrying the two, and Tatanga serving as the only member in the audience. When the quest is finished, Daisy will stand next to Luigi when Mario goes to him for a balloon challenge. Amiibo Costumes for daisy daisy- Nintendo 64 appearance peach- peach dress and blonde hair rosalina- rosalina dress and blonde hair zelda/sheik- purple and white dress with brown hair inkling- sports outfit with black shorts and a white shirt and inkling girl hair wii fit trainer- sports outfit with gray shorts and a light blue shirt and gray hair samus/zero suit samus- varia suit Unlockable suits throughout the story(whenever a world is completed) daisy's biker suit(1-3) sports outfit(3-3) mario strikers charged outfit(2-3) mario and sonic winter dress(4-2) New boss fights mario kart style race with king totomesu hiyoihoi- hit the boulders back at him 10 times with the baseball bat
FreddyThemaster 34
-Sarasaland: The Kingdom will look like a mix between Daisy Circuit and Shy Guy Bazar and India, It will have a Beach with a sunset (Like Daisy Circuit) and Buildings with Indian architecture like this one: https://encrypted-tbn2.gstatic.com/images?q=tbn:ANd9GcTXj8J8W6Dq1t7JDAG8jL22iw8rIxIcvHSXPneQEzfleO0_wO-pZqlDObVV, it's coin type will be Daisy's simbol in a purple coin. In a story point, Mario and Cappy are back together one last time and Princess Peach received a massage from Princess Daisy about a force that even she could not fight.
-Daisy: She will appear in Sarasaland looking worried about something (just like Pauline when you arrived at New Donk City) and points to the sky to a possible boss inspired by Super Mario Land that is one of Bowser's minions. After defeating the boss she will thank you giving you a Power Moon, and tell you that some habitants of her kingdom need help with something.
-Rosalina: She will appear in the comet observatory on the Darker Side of the Moon, she will tell us about how time had passes since she's seen us and will ask us the favour to find some of her missing Luma's that had fallen into the various Kingdom's after we find her Luma's she will give us an Ultra Moon.The Comet Observatory will be explorable.
Sammy Omane
=> https://docs.google.com/presentation/d/1JfqNpCjLvae4fjrq8vUVie9FGjDxUZUmBWrowrhqINM/edit?ts=5aba01ee#slide=id.p
BlueFire 1398
My idea for the potential Daisy DLC is to have Mario travel back to Sarassaland only to find Daisy in a battle against Tatanga. Daisy would ask Mario to collect Stars to help power her forces leading to a battle where Mario and Daisy works together to defeat Tatanga and sending him back in to space. After defeating Tatanga Luigi would show up and would to want to see Daisy but to open her throne room the brothers would need to have obtain more Stars. Along the way the brother encounter Wario and Waluigi. Wario wants to make off with the money in Sarassaland and Waluigi wants to upstage Luigi in order to win Daisy's heart. The brothers compete in a mini game versus the Wario Bros. Eventually Mario wins and they arrive and open the throne room. Luigi sees Daisy and she and Luigi hook up and the couple would give Mario all the Stars he collected and used to help Daisy then give him a triple moon thus indicating Mario completing the world.
Daisy Potential
- Sarasaland : The mysterious land, devided in four parts. Orange moons circled in Blue (Muda), circled in purple (Chai), circled in green (Easton), circled in yellow (Birabuto),
- Money : Daisy's emblem in purple
- Possible captures :
Pionpi (rare, gets invincible during 20 seconds after what Mario gets ejected from the Pionpi who disappears)
Bombshell Koopa (to put them near explosible rocks to reach secret paths, treasures, moons…)
Mekabon (his flying head can be used to reach high objects or high places)
Gina (same as Bullet bill)
Batadon (since it will only jumps and land roughly, to press on old buttons which can lead to open doors and all)
Rocketon (to lauch missiles while being able to go everywhere you can (in a limited zone, only usable in Chai)
Nyolin (to sneak in little holes in walls or ground to reach Moons or secret pipes)
Gunions (able to walk oon ceilings, available only undergroung and in egouts)
Tokotoko (runs while punching everything but gets crumbled each time it puches something, leading to its destruction)
Gao (launches fire balls and can climb on walls)
- Super Ball Flower : eatable, allows to throw metallic balls that can collect coins and hit ennemies
- Costumes : Daisy amiibo compatibility => Daisy's dress ; Black and white costume (refernce to SML)
- Collectible : Super ball flower, Sarasaland sticker to stick on the Odyssey, Daisy's sassy statue, a pyramid that when we hit it a beam is emitted, a Moai head statue, Daisy's castle sticker
Main mission : Cutscene : Mario is having a break in New Donk City. While walking in the streets, he sees a man holding several full shopping bags and who has some difficulties to go upstairs with all his stuff. Mario helps him and the man tells him to put his affairs in his kitchen. The man thanks Mario and while Mario is turning back to leave the appartment he notices a picture of princess Daisy on a wall. Mario points the photo and the man tells him that he is a fan of Daisy and that he'd love to meet her one day. Then Mario looks at the photography again and the camera is then zooming on it, then a new cutscene opens on the Odyssey flying to a new land that Cappy describes as a big land with very diverse landscapes and that Mario knows this place. But while they start to land a UFO hits the balloon which is at the top of the Odyssey, what makes the ship falling straight from the sky and crashing in icy water, the waters of Muda Kingdom, Sarasaland. Mario swims until an icy platform (the water became ice because of HIM) , sees a rock pillar, climbs it and jumps on land and he sees in the far electric blue clouds with a big spaceship going around them. He founds a Pionpi who says that he has been ejected from his region, Chai (where HE provoked giant storms causing big floods), and warns Mario that HE is back but that he heard that Princess Daisy managed to escape before HIS attack and that she his hidden in a fortress trying to coordonate the defense. He tells Mario too that capturing a Pionpi will allow him to not lose life but that you can use it only during 20 seconds. Ario will meet in Sarasaland all its fauna from Super Mario Land. Mario will have to travel through Muda, Chai, Easton (where he made the Moai heads forming a sort of UFO landing place to allow HIS mate to join him) and Birabuto, their cities, with each time the bosses from SML to defeat (he could defeat King Tomotesu transformed into a Gao launching fire balls, Dragonzamasu while capturing a submarine launching canon balls and Hiyohyioh while capturing a Tokotoko who'd punch the boss's face). It is in Birabuto that Daisy is hidden, in a base of a big pyramid. When Mario meets Daisy, she'll answer coldly « It's been a while Mario » and Mario looks down at his feet. But then Daisy tells that she's happy to see him and that she « needs help to beat Tatanga's a… posterior ». SHe explains she made a pyramid being built in the Pyramid Field to install in it a technology advanced fortress to protect Sarasaland and to make it not being « visible ». She then tells Mario that Bowser decided to team up wih Tatanga because he had technologies that could be useful to rule the world. Daisy tells Mario she needs 25 power moons to activate a super beam that could decrease for a few time Tatanga's powers, time during which one Mario could access to the capital of Sarasaland and try to get Tatanga down. SO Mario if he doesn't already have the good number needs to look for some through different types of mini games, levels and all like in the other countries, comes back to give them to Daisy that she adds in a sort of battery. She tells Mario to start to go in the direction of the main city while she prepares the beam. Mario is stopped by Bowser himself and Bowser tells him hs new plans with his new ally. He advises Mario to not disturb HIM in his Sarasaland domination plan and that in prevention he wants to destroy Mario. He trapps him in chains he made appearing and prepares to give him a huge punch when we see a hand slapping Bowser's cheek and sending him in the sky. Daisy then says « Wow, after all these years I didn't lose anything, so Daisybulous ! » and she laughes then Mario smiles. Daisy fress him and she gives him the Sky Pop's keys she says she forgot to give him earlier. She indicates Mario a secret path that will allow him to meet less monsters but that there could be dangers too. With this path Mario reaches egouts and can capture Gunions (big spiders) to walk on ceilings when he can. When he leaves the egouts, he finds himself being in a nice city with a french- oriental style but covered with purple substance, getting people being hypnotized and attacking Mario. Mario can't beat them, he only can avoid them. He capures a taxi (same as in NDC) which carries him to an airport wher Rocketon attacks him. Through attacks, secret levels and moons, Mario needs to find the Sky Pop. He flies with it and tries to reach Tatanga while shoting balls on Rocketons when the beam from the pyramid is activated and destroys a wing of the Sky Pop. Mario jumps from it and lands on the Sarasaland Tower, a very high tower (sort of Eiffel Tower ripoff) with Daisy's crown on it and the spaceship seen at the beginning is stopping in front of Mario. He see in the shadows of the lights from the spaceship a creature getting closer to Mario and saying « It's been a while… Mario… » Mario gets surprised and the camera faces Tatanga who introduces himsefl and explains his plans. He says the beam reduced his shield and powers but that he'll be able to end what he started, when a Luma hits Tatanga's head. Mario understands that the beam too was a sort of signal for a powerful person, Rosalina, to get inthe fight. Rosalinaappears next to Mario and makes the Sky Pop appearing again all repaired. Tatanga laughes and while he comes back in his spaceshi, he yells « you really think your ridiclous 1989 plane can stop me ?? Ha !! » and then the spaceship starts to emit waves of purple substance further than the city. Rosalina says to Mario that her and Daisy got prepared together to face Tatanga, she too explains that she knows Tatanga since a lot of time and that she leant that he attacked Sarasaland once, and that itw as only a matter of time before he tries again. She then says that Daisy is really strong so that she prepared herself and Sarasaland to face it but this time Tatanga's powers were stronger. SHe explains that Daisy got afraid of this and that after a Mario Kart competition she spoke about it with her and Rosalina told her that she'd do everything to help her great friend as much as possible.
While coming on Earth, Tatanga hits Rosalina's observatory which crashes on the planet. The mission is to find the diverse parts of the observatory in each kingdom to repair it, then it comes back t space and Rosalina thanks Mario, and Mario can visit the observatory to get new moons. (Bright blue moons, money : little great stars).
Amber Childers
I think what would be neat as a DLC would be if you got a new world added and it would be sarasaland with daisy and Rosaline. Like in wooded kingdom when you went down into the lost woods but instead you went up into space. When you went up you would be on the mario spaceship with Rosaline and you would talk to her to play mini games like in mario 64 for ds. In sarasaland you would have daisy's castle and you could enter rooms in the castle and in each room you could play a level from one of the old mario games or just boss battles from old mario games. So Sarasaland would be similar to mushroom kingdom but by playing boss battles from other mario games or a level from each older mario game kinda like the theater in metro kingdom. That was fun. Daisy would be in her castle in sarasaland you would talk to her to either purchase new stickers and items for the odyssey (sarasaland, daisy, & Rosaline themed). It would be cool too if daisy did a hide and seek game of her own for you to play with you either hiding from her or vise versa or daisy hiding items for you to find vise versa. Also for completing the extra castle room levels it would be nice if you got a new daisy outfit like how they did the wedding dress.
Alex Pailthorpe
All the moons collected in the new story and new kingdoms are counted differently than regular moons. They are in a different category, which is Gold Moons. Peach tells Mario that her friend, Daisy, has been kidnapped. Mario gets in the Odyssey and goes to Sarasaland. It is destroyed and there is a lot of rubble. You run around and get moons, working your way up to Daisy. Then, you battle Tatanga in his space ship. After you are done, you walk to Daisy. Then, the ship explodes! Mario is blasted to the moon! He arrives on the Darkest Side, somewhere you are unfamiliar with. You see a shadow further ahead. You start walking towards it, and before you see who it is, it fades out back to the Mushroom Kingdom. Peach and many Toads are talking to Luigi. They tell him he needs to go save Daisy and Mario. The Toads bring out a Toad ship, and Luigi takes off. You arrive in Sarasaland. You go through the kingdom to Daisy. Luigi tugs on the cage but can't open it. Then, Cappy emerges and explains everything to Luigi. He hops on his head and you try to get the cage opened. You have to backtrack and capture tour first enemy: a bullet bill. After a short cut scene, you break the cage with the bullet. Daisy talks to you, but you realize you need to get to the moon. Daisy tries to pull a lever, but she can't. You throw Cappy at the lever, and the wall drops, revealing Mario's ship from Super Mario Land. You get in and fly to the moon. It fades back to Mario on the Darkest Side. Rosalina emerges and talks to Mario. Her ship crashed and she needs to fix it. Then, Luma jumps on your head with Mario's cap. You can now do a twirl jump from Super Mario Galaxy, which is really just a re purposed twirl from two-player. You run around and find the parts to fix the ship. Then, Luigi, Daisy, and Cappy arrive on the moon. They get out and walk to Mario and Rosalina. As soon as they start talking, they feel a rumble. Bowser jumps down and grabs Daisy, Luma, and Rosalina. However, something is different: He's been possessed by King Boo! He jumps into his airship and flies down to Isle Delfino. You try to use Rosalina's ship, but only she can fly it. Luigi, Cappy, and Mario jump in the small ship and sly to Isle Delfino. Now, you get the option of playing as Mario or Luigi. Then, you arrive in a wrecked Delfino Plaza. FLUDD greets you, but you can"t use him: He is worn and rusted. However, Cappy gets an idea. The character you chose buckles into FLUDD and the other captures it. You can now us FLUDD like the good old days! You have to spray fires, use the hover ability to cross gaps, attack enemies, break through fake walls and more with FLUDD. You can also use different nozzles if you break those boxes. You eventually go through the volcano. You pass every obstacle and arrive at Bowser. You have to do a special boss fight with different stages using the different nozzles. After you beat him, King Boo runs away and Bowser is left down and out. You reunite with Daisy, Luma, and Rosalina. Then, there is a big party at the Mushroom Kingdom celebrated the safe return. After you beat the story, a lot of things happen: Rosalina+Luma and Daisy are seen talking with Peach on the balcony, new Bowser missions are unlocked, a new co-op mode is unlocked where one person is Mario and the other is Luigi, you can now play as Luigi, there is extra content in the Darkest Side, you get new costumes, and you unlock new kingdoms. The kingdoms you unlock are: Sarasaland, the Darkest Side, Isle Delfino, the Comet Observatory, and the Spooky Kingdom (There are eerie woods with boos and dry bones, and Luigi's Mansion is even in the kingdom!). Also, these are possibilities for new kingdoms: Bean Bean Kingdom, Bob-omb Battlefield(through portrait in the castle probably), Retro Kingdom, and Big-Small Kingdom. This DLC could easily be anywhere from $20.00-$60.00. I sincerely hope that this is considered for an expansion to Super Mario Odyssey.
Sandra Zirnstein
My idea for a Mario Oddyssey DLC. My idea includes a new kingdom: Sarasaland. Sarasaland is a big kingdom, great for new moons and more. My biggest idea includes Daisy. You can meet her in the castle and now can the quest beginn. You'll go into her castle and talk to her. She tells you that she wants flowers from all kingdoms in her garden. Problem: she don't know other kingdoms well. Some of her quotes could be:"I wish I could find all flowers by myself, but if I do this,I would probably spent days in one kingdom." Then she would ask Mario if he could do this for her. The little rewards will be coins. And if you brought all flowers from all kingdoms to Daisy, she'll show you her garden. And as your big reward you'll get your own garden. Now you can set your flowers there,draw something with them etc. You can also use flowers, Daisy didn't told you to bring. For the difficulty: Daisy will tell you in a riddle how the flower looks and where you can find it.
Phantomias Foxy
1. After you`ve bought or got the DLC for free, Sarasaland will be unlocked on the map. There you will meet Daisy at the castle,she tells you that Sarasaland is under attack by Tatanga (Bullet Bills are crashing into the ground everywhere). She wants you to help her defeat Tatanga and all the enemies that are now at Sarasaland Castle. You and her are going to fight against them. After you`ve defeated a special amount of enemys the Castle will open and you can go inside the Castle. You will encounter many enemies there and when you got into the throne room, Tatanga will attack and take you to the roof of the castle. There you`ll have to fight him. Daisy will help you with crystals that she creates. (probably too big of an Idea for Super Mario Odyssey)
After the Battle everything in Sarasaland is back to normal and you unlock one Minigame with Daisy.
Minigame Idea 1 Daisy wants to plant her favourite flowers around the castle and you have to find and plant the seeds of the flowers. They are everywhere around the castle. The faster you find them, the higher you will be in the World Ranking System. You will get 500 Coins for that minigame.
Minigame Idea 2 You will unlock a Racing Minigame with Daisy and the inhabitants of Sarasaland.You are going to ride on Gao or King Totomesu and you can shoot fireballs at Daisy and the others. Obstacles are everywhere and you should destroy or jump over them (Or walk around them xD)
Tatanga Boss: He will fly around in his Warship and shoot cannonballs at you. Tatanga will also attack with lasers. (Daisy can help you with crystals that she creates) Mario will have to block the attacks with Cappy or dodge them. With Cappy, Mario can capture the crystals and shoot himself out of the ground right at Tatanga. Or Mario can jump on Tatanga when he uses his spinning attack. The spinning attack is a attack where Tatanga will go to the ground and spin himself. Then he will shoot cannonballs in a very fast way. When you defeat him, you will get a Multi Moon.
2. The DLC is free. After you`ve got it, Daisy will appear in the Mushroom Kingdom and will stand near to Luigi. You can play the Racing Minigame when you talk to her and every three minutes she will shout "Hey Sweetie" to Luigi ;)
3. You unlock Sarasaland and can play one of the Minigames when you talk to Daisy. If you get to the roof of the Castle you will encounter Tatanga as a secret boss.
Choose the winner !